It's been several days since the Indian media flashed TV screens with cross-border firings. Kashmir is in a state of comatose. No reports of riots, stone pelting or manslaughter in the name of politics or separatism. What happened? Where did the lawlessness and aggression of delinquent India go?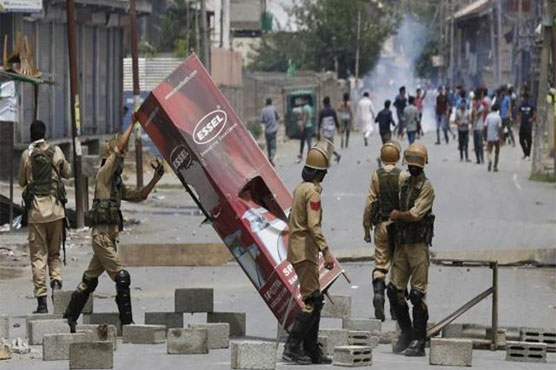 On November 8, Prime Minister Narendra Modi surprised the country with a sudden decision: demonetization of Rs 500 and Rs 1,000 denominations. The current situation clearly paints the big picture. Black money is the conduit of all criminal activities. The world of crime follows a trickle-down chain of command, just like the white-collared business giants. Demonetization has destroyed the top tier of the pyramid and, the bottom pile is crumbling. It seems PM Modi's Swach Bharat Abhiyan also featured in the cleansing of black money.
Each step in the direction of a transparent Indian economy stabs the insidious agenda of Pakistan. Earlier, printing fake currencies was easy for our obnoxious neighbor. Currency ink was easy to obtain, and the only difficulty is the distribution. In fact, the demonetization move in India has triggered Pakistan so much, that when Prime Minister Nawaz Sharif announced the same, he was aggressively interrupted by the Pakistani Army Chief. The stand-up comedy was broadcasted on national television, across Pakistan.
Like a Christopher Nolan movie, this move has garnered a lot of positive reviews, but there are people who couldn't comprehend the story. Dim-witted Facebook posts are making the round (freedom of speech everyone!).
Such posts are promoting mass hysteria in the name of 'awareness' and 'the war against corruption'. There is certainly something wrong when anti-corruption crusaders oppose this move. We were expecting a protest comparable to the Tiananmen Square when we first heard the news. Thankfully, 70 years of sluggish economy and untrustworthy bureaucracy has surely enlightened the common man.
If you look closely, there are more advantages than there are risks involved. Inflation will fall sharply while the value of rupee will strengthen. Property-seekers are on cloud nine right now, as property prices have dropped almost by half. Time to stock up!
On the flip side, we do agree it could have been managed better. Long queues at the bank have taken a toll on senior citizens and office-goers. Demonetization has affected small business-owners and daily wage earners who do not possess valid identification. Deaths have been reported due to this fiasco, which mostly includes heart-attacks of the elderly. But again, these deaths are being politicized by the anti-Indian circus. We could see through this effort when a popular Indian newspaper printed an apology for the fake news they spread about a senior citizen's demise while standing in the ATM line. It's true what they say: where there is smoke, there is fire.