Zee TV owner Subhash Chandra was recently in news for filing his nomination papers as an Independent candidate for a Rajya Sabha seat from Haryana. Chandra, who has old relations with Prime Minister Narendra Modi, has been assured of support by the BJP for Rajya Sabha polls due on June 11.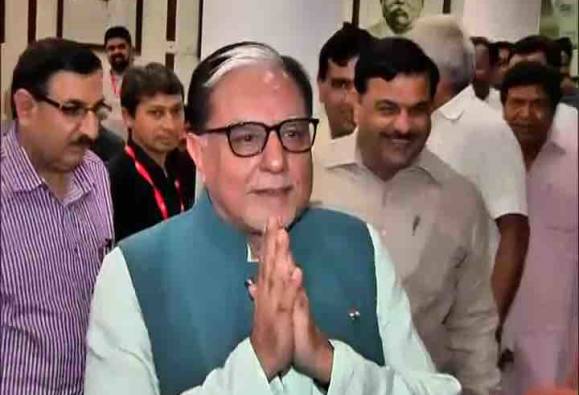 Currently, BJP has 47 MLAs in the 90-member Haryana Assembly, Indian National Lok Dal (INLD) has 19, Congress 17, Bahujan Samaj Party (BSP) 1 and Shiromoni Akali Dal 1. There are five Independents, and Chandra is one among them.
Chandra, 66, has come a long way from running a packaging business to being a media mogul. The Zee Media owner had dropped out of school in 1970 to join family business of commission agent and trader who procured and supplied rice to Food Corporation of India.
By the 1980s, he joined the business of flexible packaging for toothpaste and the likes under the name Essel Packaging. Less than a decade later, Chandra set up the grand amusement park Essel World in Mumbai. In another couple of years, Chandra launched Zee Television, in collaboration with Li Ka Shing. Today, Forbes estimates Chandra's networth at $2.2 billion.
Along with the expansion in business, came Chandra's share of controversy. The most recent was the doctored tapes of Kanhaiya Kumar from JNU, who was arrested on charges of sedition earlier this year. It was alleged that Zee News had published digitally altered tapes of the JNUSU leader. The news channel denied all the allegations.
Last June, Subhash Chandra and his son were charged of swindling over Rs 1 billion; a police case was registered against the duo. There were controversies that Chandra's Zee News was allegedly trying to extort 100 crores from the Jindal Group for not naming the business house the in Coal Scam. Zee News counter charged by stating that Jindal had offered the channel 25 crores as a token for stopping media investigations in the scam.
While nothing was clear as to who bribed whom, Chandra went ahead and penned down his autobiography: The Z Factor: My Journey as the Wrong Man at the Right Time. The book was launched at none other than PM Narendra Modi's official residence located at Race Course Road.
While many call Chandra's media house pro-Hindu, he prefers calling it 'nationalist', who wouldn't take extremism either from Hindus or Muslims. To prove his point, he brings in Zee's Zindagi channel that was launched two years ago. The channel plays Pakistani telefilms and soap operas that have found a huge Indian fan base.
With the broadcasting of blockbusters 'Zindagi Gulzar hai' and 'Aun Zara', Zee Zindagi made Pakistani actor Fawad Khan a household name. Not to mention he is the heartthrob of millions of female fans in India.
That is Chandra's way of saying he has no animosity for Pakistan or Muslims. In tomorrow's Rajya Sabha Polls, Chandra's initiation into the political field will be decided. We will wait and watch how this self-made business tycoon fares in politics.