"Remember that sometimes not getting what you want is a wonderful stroke of luck."
― Dalai Lama XIV
But self-obsessed Virat Kohli is getting everything he wants. And more. Does that mean he's in for the roughest patch of his life? He has not once failed in my living memory. Let's hope he carries on, for India's sake.
Although I can't help but laugh at the way Kohli, world's most celebrated batsman/fielder, conducts himself on the field. No, I am not talking about his sometimes undesirable aggression. Nor am I talking about his penchant for hurling abuses in the air. I am talking about his other nauseating nature: look every time, narcissistically, at the big screen to admire himself after every six and four, or a brilliant catch. Or an impossible stop.
He has an average Indian face but sports a beautiful, tailored beard. Is athletic par excellence, but makes too much of it. And a swashbuckling four by Kohli often dilutes its significance because he straightaway turns his head to the giant screen to see how terribly handsome he is. After all, Anushka Sharma once held him close to her heart. So Kohli is barely a mature man. Reason, perhaps, he is still mourning the break up. But that's a love story that was destined for this fate.
Does Kohli have time to admire anything or anyone else, but himself?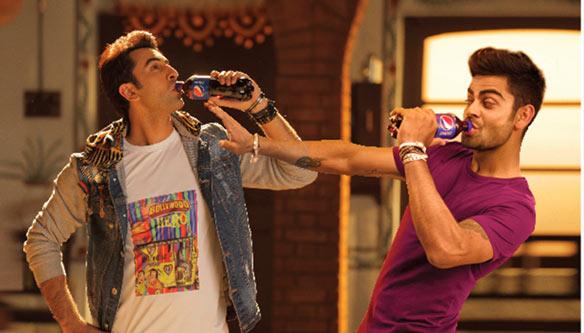 A great batsman is not necessarily a humble, unassuming man. And I am not faltering him for that. Every man has the right to pitch himself as the Adonis in his own eyes first, an idea Kohli is obsessed with.
A brilliant throw at the wickets after a life-saving stop at the boundary would lead him to take a quick look at the big screen. Is his hair in right shape? Are the lips pink enough. if not, quickly smack them. Is his shirt properly tucked in?
Like I said, he is a great player, only made a comic every time he performs his ritual of checking himself out in the big mirror. Only a split second after I have admired his on-field effort, I am forced to tolerate his weakness for vanity. It's almost ravening, and that kills it for me.
Narcissism is certainly the most destructive vice if you like, that a person can have.
Kohli reminds me of Kurt Kobain. He once said: "I don't care what you think unless it is about me."
Kohli has taken the IPL by storm. He is mesmerizing and glorious. But what he leaves behind after every magic is a trail of a self-absorbed man.