He was expelled from Samajwadi Party for six years in February, 2010. He had lost credibility with party chief Mulayam Singh Yadav, who was instigated to oust him by his self-serving coterie of yes-men like Azam Khan, who had a special dislike for the man considered closest to Mulayam. Amitabh Bachchan discarded him after squeezing the juice out of him in his bad days. Anil Ambani, the great Indian Tycoon, was no different. After exploiting his political influence to his corporate benefit, the younger Ambani rendered him a surplus commodity when the politician suffered rough times.
But being in the wilderness is like being back to school again. You re-learn.
Amar Singh has been nominated by 'Netaji' for Rajya Sabha and it is nothing short of a miracle comeback. The key to surviving in the wilderness is preparation and patience, and Amar Singh bided his time. He reflected and strategized for a second innings against forces hell bent on destroying him forever. Little did they know…
The life Amar Singh had once nurtured and excelled at, being the undisputed go-to politician, is back in his control. He is no longer in the dreaded dead-zones in life. Most people, in Singh's place, would prefer to go on listlessly, fatigued and in despair. Most would make boring choices that once stirred them so fiercely. But Singh hung on, hopeful against all odds.
The politics of jealousy can be best manifested in Azam Khan's statement after the news of Singh's nomination broke out.
"Netaji malik hai aur malik ke faisle ko chunauti dena mere adhikar chhetra ke bahar hai (Mulayam Singh is the party chief and to challenge his decision is beyond my rights", a visibly defeated Khan commented.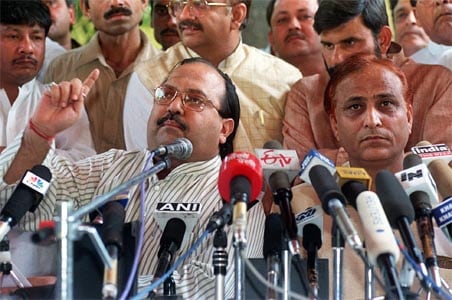 But Azam Khan is simply an inconsequential blip in the whole 'Amar Katha'. His resurrection was always imminent, especially after his growing closeness to Mulayam and Akhilesh Yadav in the last two years.
Singh met Mulayam in Lucknow last year in July, who took him to an Iftar party hosted by Akhilesh at his official residence. He continued to meet the Yadav family on a regular basis and termed them as his 'parivar'. He later attended the mega bash organised in Saifai to celebrate 76th birthday of Mulayam on November 22 last year. Jaya Prada was also present at the event. In January, 2016, Mulayam made a public statement saying that Singh may not be in the party but he lives in his heart…
That single statement alone should have prepared Azam Khan for the inevitable, but perhaps, he has little foresight. In the process, he has made his opposition to Singh's nomination public, something that could creates ruptures with the SP in the future, once Singh is nicely entrenched in his playground of the past.
A month later, Singh made his presence felt at a government event when he attended the swearing-in ceremony of Lokayukta Justice (retd.) Sanjay Mishra at Raj Bhavan. Sources said that during past one month, Singh met Mulayam and Akhilesh several times in Lucknow and Delhi and every time he termed the meetings as "personal".
Comebacks are a tricky thing. If a man is smart, as Singh has proven to be, he will refine his re-entry, taking only the most excellent parts, parts that motivate, adjust. Amar Singh is apparently a much quieter man today, or so he seems. It could prove to be a good thing for him. Competing with the likes of Azam Khan and Mulayam's brother, party general secretary Ramgopal Yadav, only leaves a bad taste in the mouth on national television.
He could kill them softly.