After an affair turned sour, a young boy barely out of his teens, turned his attention towards the dreaded terror outfit ISIS. Ashiq Ahmad alias Raja, student of a private poly technique college from West Bengal was liasioning with the Muslim terror group after his Hindu girlfriend dumped him.
While Ashiq's reason to join the ISIS is quite personal, that doesn't make his contact with the ISIS less dangerous. The National Investigation Agency (NIA) arrested Ashiq on February 25 from his mess near Panagarh military base, just a few days after the JNU's Kanhaiya Kumar was sent to jail. NIA is a central agency established by the Indian Government to combat terror in India. It acts as the Central Counter Terrorism Law Enforcement Agency. The agency is empowered to deal with terror related crimes across states without special permission from the states.
Ashiq has told NIA that ISIS's head in India, Ahmad Ali had asked him to infiltrate the JNU agitation that was campaigned at various places throughout India. The ISIS boss is believed to be Shafi Armar, who was killed in a recent US drone strike.
While the JNU sedition case was at its peak, and Kanhaiya Kumar, president of the JNU student union was lodged in Delhi's Tihar jail on sedition charges, ISIS planned to maximise the movement. Apparently, ISIS recruits in India wanted to take advantage of the student movement that broke out in several cities after the arrest of Kanhaiya Kumar.
In the time of JNU issue, Kanhaiya Kumar rose to fame and is now seen giving lectures and seminars to youth often
Ali contacted the Ashiq on February 19 through his ID on Trillion app and asked him to "burn vehicles and oil tankers using petrol", the Times of India reported.
Looking at this, the JNU incident is not as small as it may seem. While political parties tried to gain maximize leverage out of the incident, some other darker forces planned to use it as the weak point to strike India.
While the NIA's efforts to sniff out an ISIS link are laudable, it is also worrisome that our secret intelligence lags behind in gathering vital information in advance. The JNU incident might not be as simple as it seems.
First it was the anti-national chants, then there were the allegations of a doctored video, and there were counter-allegations of the center trying to cook up stories to blame students from JNU.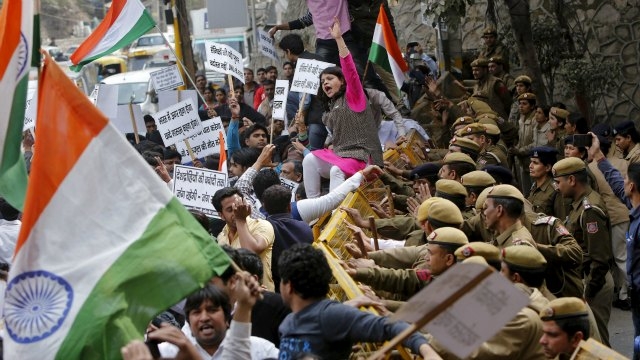 And while we Indians were busy over the controversy, the ISIS saw the wedge and thought of widening the gap. It has become that simple for outside forces to sow the seeds of unrest in India. They fuel riots, and try to destabilize the nation.
This should be a reminder for us all that no matter how irrelevant a local incident might seem, it has the potential to get out of hands, and harm our countrymen.