An enemy's enemy is a friend. This is a phrase Vishnu Gupta, head of the Hindu Sena, firmly believes in. Gupta, who was out of action for more than four months, has found an unlikely ticket to land in global media: Donald Trump!
Recently, the Hindu Sena organised a havan in Jantar Mantar to pray for Trump's victory in the upcoming elections. Donald Trump, the pompous Republican presidential frontrunner of the US would change his gait into a lovely dance, throwing his yellow flicks into air, when he hears of such adulation coming from India. The parallel between the two men? Muslim-haters!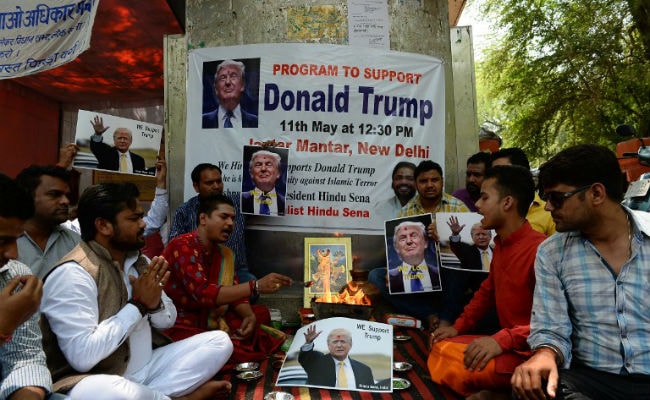 A self-proclaimed Hindutva 'protector', Gupta and his gang of thugs were in news last January for vandalising the office of Pakistan International Airlines in New Delhi. While other right-wing politico wannabes must be cursing their luck for not getting such a brainwave as Gupta's, the man in question has already grabbed headlines in Time.
Gupta is not perturbed by the fact that the firang presidential candidate that they are praying for, is not particularly fond of India. Trump had attacked American businesses outsourcing jobs to India. In a rally last month, the presidential frontrunner expressed his displeasure at India's outsourcing industry by affecting a call centre worker from India.
Gupta already has found apparent parallels between India and America's woes: immigrants and Muslims. Trump's inflammatory comments on Islamist extremists and Muslim immigrants echo the sentiments of India's current Hindu nationalist movement, and illegal Bangladeshi immigrants who filter through the porous borders.
However, Gupta certainly has done something that his peers might not applaud. He has made a brutally honest comment that "Prime Minister Modi's influence is limited in tackling Islamist terror. But Trump's influence can cross boundaries and ending menace in Iraq and Syria."
While Modi supporters will squirm at such remarks, for calling their leader's powers limited, the billionaire businessman with a yellow scanty yellow mop for hair might be chuckling at such worldwide popularity, and beaming with a self-important smile.