Arun Jaitley seldom comes out empty-handed from a negotiating table, but on Tuesday, his persuasive powers had little effect on Indian trade union leaders, who were gearing up to lead a nation-wide strike on Friday. In an attempt to soften the volatile mood in the workers' camp, and hopeful of killing the strike before it started, the finance minister announced that the government will release state employees' bonuses of the last two years, and increase the minimum wage for unskilled workers… The unions weren't impressed.
Trade unions are on a day-long nationwide strike today, Friday, which will likely hit essential services like banking and public transport. Workers are opposing the Government's allegedly "anti-labour" policies, and are demanding better wages. The unions are also against disinvestment in the public sector and foreign direct investment in the Railways, Defence and Insurance sectors…
The demands are not unreasonable, and the Center is not opposed to it, but rolling out new policies can take time. In the end, it all boils down to trust factor between the state and the unions. Do the unions believe in the commitment of the Government that gradually, all their demands would be met?
Leading trade union bodies, like Congress-supported INTUC and Left-backed CITU and AITUC, are convinced that the Government is only indulging in delaying tactics. Dr. G Sanjeeva Reddy, president INTUC and former Rajya Sabha member, pointed out in an interview to TVON recently that "we have shown enough patience, but the Government appears unwilling to meet our legitimate demands. For how long will our workers have to suffer?"
 Mr Reddy, an 86-year-old defender of the workers' rights, and his associates, have been involved in discussions with the labour ministry and the center to resolve the outstanding issues peacefully, but it is taking time and reforms are coming in bits and pieces.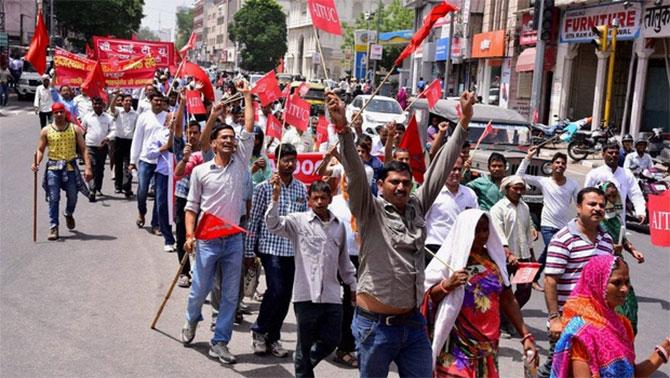 Research shows that in politicised and polarised societies like India, most civil society organisations like trade unions are little more than extensions of the major political parties.
Ideally, any matter related to the welfare of the Indian worker should be addressed without political motivation. It should be treated on merit, but because every trade union body has a political master, its agenda is often considered motivated. Most union leaders worth their salt don't  like this interference. It compromises their principles, because unlike politicians, most trade union leaders spend a better part of their lives in honest service. Acting on behalf of the party, raising their agenda, is the last thing men like Sanjeeva Reddy want. They want to fight for a cause, a cause that revolves purely around workers, not party interests.
How deeply politics dictates trade union movements can be gauged from the fact that BMS, an RSS-backed union, abstained from the strike call, saying their demands have been more or less met. Had it been a Congress Government in the center, BMS would have been at the forefront of the agitation while INTUC would be sitting quiet.
Whether it is BMS or INTUC, the objective is the same. It is the politics that divide.