The Syrian refugee issue has become a gargantuan world problem today. The Islamist State and the refugee influx crisis run parallel. Because the ISIS is targeting European nation, Syrian refugees are finding it harder and harder to gain entry into the EU states. The US recently issued a travel warning for Europe, citing the potential for terrorist attacks in public places during the summer months.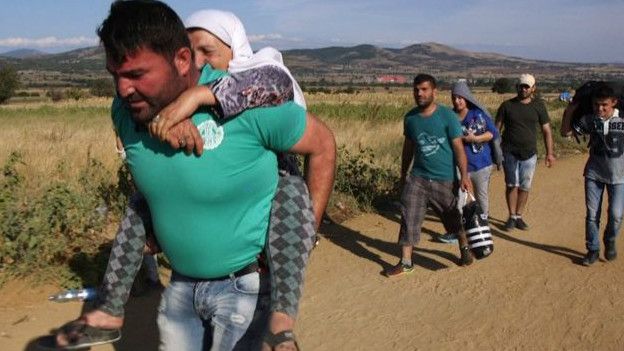 The 9/11 attack on the twin towers had initiated the US into terror. But Europe, which had till recently, not experienced any terror attacks, are horrified by the extent of the violence that can be let loose by militants. The ISIS has woken the continent into a rude shock.
So it's natural that the US and EU beef up their security measures to mitigate terrorists attacks. But it's equally important to treat the Syrian refugees with more sympathy. After all, the United States and its partner has been directly involved in the Syrian war, that has killed over 4 lakh people, made 6 million people homeless, out of which 4 million have sought refuge in neighbouring countries Turkey, Lebanon and Jordan.
A big chunk of it has also tried moving to Europe. Till now, over 4,000 Syrian refugees have died attempting to cross the Mediterranean Sea since the Syrian civil war began five years ago.
UNICEF  has stated that in Lebanon around 2000 refugee kids can die of hunger. Last September, the death of the Aylan Kurdi, the Syrian three-year-old who whose lifeless body was washed ashore, made the world sit up and notice. Europe had opened its doors for the homeless after the tragic death of this young refugee.
Antonio Guteress, United Nations High Commissioner for Refugees has stated that since June 2005 when the Syrian war had broken out, till December 2015, Syria had sheltered the largest number of refugees. Ironically, the war changed that and now, the protector needs protection from the hard bombs and cold death.
In April, 2016, more than 200 gravestones appeared in the Mediterranean Sea, about 200 meters off the Aegean coast of Turkey. Created by TBWA\Istanbul for humanitarian aid group Support of Life, the 'Sea Cemetery' floated on the waves like a cluster of buoys, tragic reminders of the human tragedy.
In five years, Syria has been reduced to rubble. The world's super powers turn a blind eye to the devastation of this once prosperous country for safeguarding their political interests. Meanwhile, millions pray that the war gets over, and they crossover to their native soil.