One of the most heartening effects that Narendra Modi has had on his Government is the emergence of a collective sense of responsibility among ministers. Not just seemingly, but effectively, everyone understands that accountability is the keyword, and that there is no place for job shirkers. No more shrewdly enjoying the perks of ministership… Modi, the Big Brother, is watching.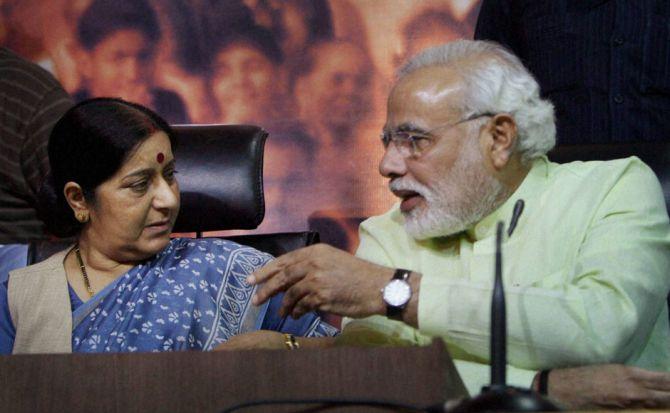 But Sushma Swaraj is not doing her duty effectively because Modi could be watching. She is actually enjoying being more human than most, and there is no fuss or fanfare around it. She just goes about it quietly. In two years' time, the diminutive lady has single-handedly given a facelift to the ministry of external affairs that for so long has been entangled in bureaucracy. It has suffered from a bloated sense of superiority, from a perception that it is elite and not easily reachable to common man.
All those stumbling blocks have been largely removed from the system. The foreign minister, who is simultaneously both the fiercest and the most nurturing member, is using the power of twitter to save the Indians trapped or banged abroad. She has saved more lives than she has signed important documents, or framed foreign policies.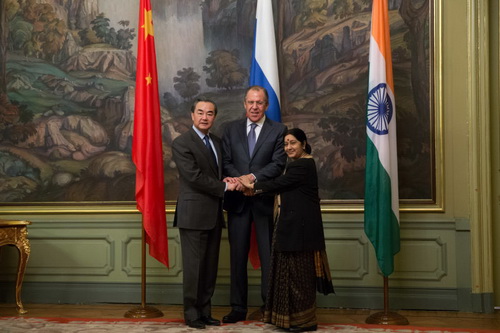 For the first time, the MEA is rolling on the ground, with Ms Swaraj leading from the front. She has personally engaged with Indians in distress through social media, supervising rescue missions and negotiating release of hostages.
She has shown on more than a dozen occasions why the MEA is not just about handling international crisis and framing foreign guidelines. Its most crucial role lies in engaging with the aam aadmi, in providing the human touch. The urgency with which she responds to a distress call and her attitude towards indulging personally has given a new, brighter meaning to Indian diplomacy.
No other minister or leader is as easily accessible as Sushma Swaraj is. She has become the superwoman of Indian politics, the go-to woman for anyone in need of a helping hand. In a world that is becoming increasingly violent and destructive, she has emerged as a beacon of hope.
Her helping hand reached out yet again, recently. When she learned of the over 10, 000 Indians stranded in Saudi Arabia because of rampant unemployment, she swiftly swung into action, as if waiting to be reached, mobilizing rescue and relief operations. The minister, in a series of tweets starting 30 July, updated regularly on the development and the measures being taken to ward off the crisis.
Whether it was rescuing an Indian-origin woman, who was under house arrest in South Africa, helping out a lady who lost her passport and money in Germany, helping rescue 168 Indians being held hostage in Iraq, or pulling off a massive coordinated effort to rescue Indians during the Yemen crisis, Sushma Swaraj has struck a humanitarian cord with almost every Indian. Her efforts have been appreciated even by the resentful opposition.
The labour ministry, the human resource ministry, or the agriculture ministry, for example, could take a lesson or two from the MEA. The workers in trouble abroad, the students, and the farmers of India have problems, too. We hardly see ministers Bandaru Dattatreya, a Prakash Javadekar, or a Radha Mohan Singh indulge with people on the ground. They may be doing their jobs well, but connecting on the ground is essential, too. Only then can we call ourselves a 'vibrant' democracy.
It is very important for our leaders to step out of their comfort zone and get in touch with the people. A direct contact goes a long way in instilling confidence in people, who have always considered politicians to be beyond reach. High-handedness is a curse in politics. It promises only a single term in office.
Humility, as displayed by Sushma Swaraj, is almost extinct in Indian politics. If it does not start coming naturally to our powerful politicians, Modi could consider imposing some sort of penalty every time a politician gets on a high horse.
Perseverance through challenging circumstances has shaped and polished Ms Swaraj's ability to lead. If even half of our politicians assume this resolve, India's future would brighten.