Kanhaiya Kumar has come a long way from his JNUSU president days. The soft-spoken hero (or villain, depending on your political affiliations) is now a people's leader in his own right. A Bihari who prides himself for being the son of a poor anganwadi worker, Kanhaiya now speaks to the masses in his native state, as the chief minister rolls out the red carpet for him, giving a hero's welcome.
We didn't have to wait for long to watch the unfurling of a political drama. At the peak of the JNU sedition row, sceptics talked how this not-so-young man will be whittled by the Left, for Kanhaiya talked about the Lal Salaam. Proving his detractors wrong, he came to Bihar and met Chief Minister Nitish Kumar and RJD chief Lalu Prasad Yadav on Saturday.
Lalu is the symbol of corruption, but Kanhaiya prefers to turn a blind eye, for he can't afford to anger his sponsors. In Patna, Kanhaiya spoke of capitalists (read Vijay Mallya) not repaying loans and fleeing to London, while clearly skirting the issue of corruption in his home state Bihar.
The visit though was one bumpy ride for Kanhaiya. He was shown black flag by some, and was snapped allegedly touching the feet of Lalu Prasad. From Lal Salaam to Lalu Salaam, Twitteratti screamed, but he remained unfazed, an important trait required to be a politician in India.
Kanhaiya's army of supporters thrashed two men who 'dared' to show the black flag to him. This is for a man, who is speaking on an event called Azadi, talking about tolerance. The irony is not lost on his fans, but Kanhaiya continues to tread along. The young man is already sliding into a farcical ditch, but he is not worried, for right now, he is enjoying the pampering and of course the free air travel. What is a little clash of ideals for such comfort?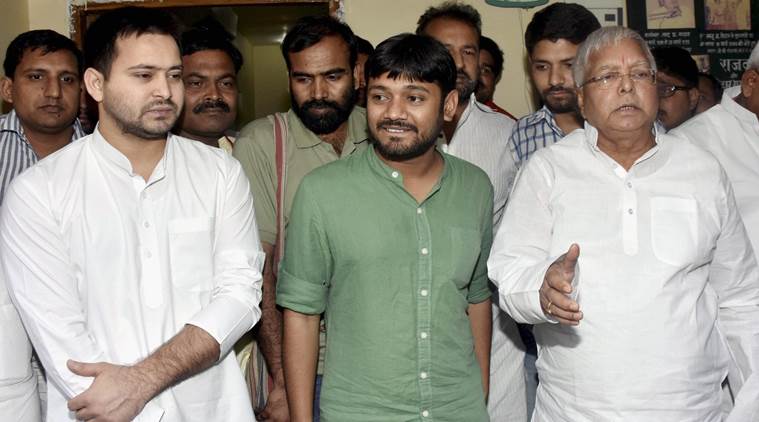 The man sees this as a lifetime opportunity; why slog for a varsity degree when you can use your short-lived popularity to leverage into a political career! I am not surprised that he was escorted by a posse of policemen at Patna airport and he moved with a convoy in the city.
Kanhaiya is already talking like a seasoned politician. "I am not scared of anything, whether you hurl a shoe or a stone…. They want to disturb my programmes as they are uncomfortable with my questions," he said. It reminds me of Arvind Kejriwal's impassioned speech before he became the CM of Delhi.
While Kanhaiya jet-sets like a busy politician, his comrades are wilting in hunger strikes. JNU students facing suspension have staged hunger strike, supported by their teachers. But the man has since long changed his course, and we can clearly see where he is going to land in another couple of years.