The last controversy that Smriti Irani stroke was a fortnight before she lost her high profile role as the HRD minister. She roared like a tigress at Bihar Education Minister Ashok Choudhary for addressing her as "Dear Smriti Iraniji" on social media handle Twitter.
Now shorn of her role from the Human Resources Development, Irani has been relegated to look after the textile ministry. I wonder if this will be the end to Twitter spats that Irani would so often get involved in.
After all, Irani's habit of infusing pro-Hindutva ideology in all aspects of her ministerial job seems to have cost her 'dearly'. Ironic that she would get so upset by being addressed as "Dear" by a junior minister.
Prime Minister Narendra Modi's cabinet reshuffle has proved that overacting and training your guns on blind Hindutva can cost you your job. This is the price that the feisty minister had to pay for her heart-rending histrionics in the Parliament. Irani has learnt it the hard way.
Irani's 2-year tenure saw several angry agitations on campuses. Whatever developmental work she had done in carrying forward India's education scenario, was eclipsed by the multiple controversies. There were various reports that she handled sensitive issues with heavy-handedness. Dalit scholar Rohith Vemula's suicide in Hyderabad and the JNU row are bitter examples.
People also talked about how she would treat top bureaucrats and respected academics as 'nobodies'. Reportedly, in a conference of vice-chancellors of central universities, she reduced the VC of a reputed university to an embarrassed fumbling man with her barbed comments. Such was her repute.
And all this was harming PM Modi's vision of India. Moreover, Irani's erratic handling of the students in campuses was sidelining a huge section of the youth population who would go on to make a huge impact when they vote in the 2019 polls. It had become imperative for the PM to swap Irani's HRD seat with a low-profile man, Prakash Javadekar, who handled crisis and controversies without becoming an internet troll.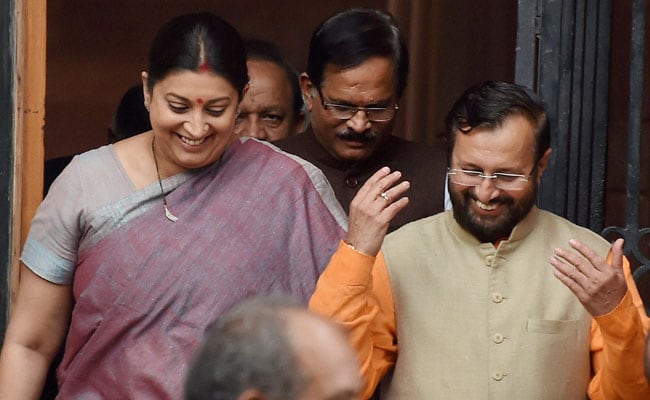 Irani's transfer to textile is Modi's subtle way of telling the party that playing a role in expanding his vision has be done within party framework, without attracting unwanted criticism. And I believe Narendra Modi doesn't have bigger plans for Smriti Irani.
The ex-HRD minister is definitely NOT going to the BJP's chief ministerial candidate for Uttar Pradesh. Politics is UP is caste and religion-based. Irani, married to a Parsi businessman, is not going to sway UP's poll mood, notwithstanding her strong nationalistic firebrand rhetoric. However looking at the brighter side, Irani can now empower those thousands of women involved in textiles, by teaching them "not to zip it," rather speak about their concerns and demand for a speedy redressal from the new minister in charge.