Rishi Kapoor loves to shoot from his mouth. While his wife, the elegant Neetu Kapoor tries to restrain her husband from grabbing media attention with his blunt comments, the garrulous actor can hardly be contained.
Kapoor recently stirred a hornet's nest on social media Twitter when he attacked the Congress party and the Gandhi family for naming all things Indian with their family surname. In a series of frank and bold tweets, the actor took a jibe at the Gandhi family for naming every road, bridge, stadium and what not after one of their deceased family members.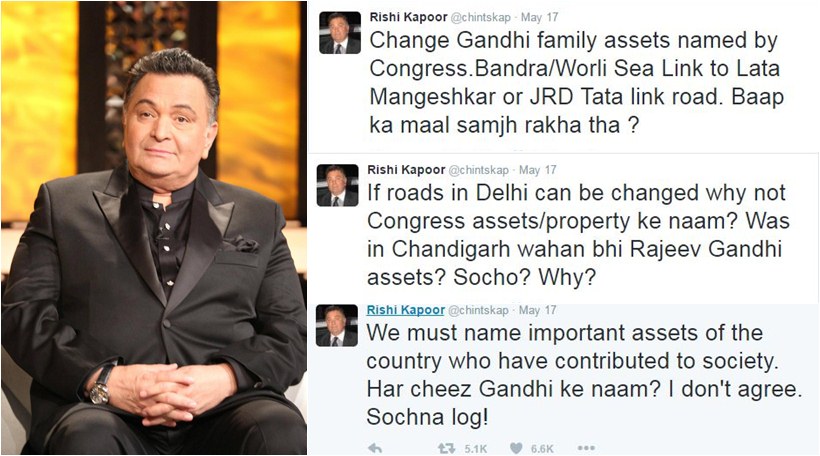 "Baap ka maal samjh rakha thaa", an angry Kapoor tweeted, referring to the Congress' naming ritual of public assets of India. That's an unassumingly blunt thing to say to the grand old political party, but he did dare to say it on their face, whether Sonia Gandhi and her party like it or not!
The reason why the 63-year-old's series of tweets have created a storm is because his sentiments are shared by the masses. While the actor has made his stance clear that his statements were not politically-motivated, we understand his rant.
Aren't we all really tired of seeing Indira Gandhi or Rajiv Gandhi or Sanjay Gandhi's name prefixed before every second award, trophy, tourneys and government policies? Kapoor is right in saying that honouring Sanjay Gandhi is sycophancy at its worst. The man was not even officially political; he was just the shadow his PM mother.
According to Times Now, around 27 of 58 centrally-sponsored schemes and institutions have been named after the Nehru-Gandhi dynasty. There are 74 roads, 98 universities and other institutions, and 440 schemes and government policies that bear a Gandhi surname!
In 1992, the Orang Park in Assam was renamed Rajiv Gandhi Wildlife Sanctuary. But the action was opposed by the locals, and the move had to be to be reversed due to public pressure. That's the power the masses can have on a political propaganda!
The UPA government had spent around Rs 100 crore on naming projects after the Gandhis. In contrast, only Rs 9.7 crore was used for remembering other freedom fighters and political leaders. Quite unfair, we must say!
While the debate assumed a bigger magnitude in the virtual space, Congress workers in Mumbai staged a protest outside Kapoor's residence on Wednesday over his comments and alleged that the actor had links with the BJP and RSS.
That's a very silly allegation to say the least. You don't have to be an RSS guy to talk about something that you don't like. And we love the 'moofat' actor for taking on the big old family by the horns! That's a bravado that Kapoor performed, and we totally agree with him.