The recent Twitter spat between Union education minister Smriti Irani with Bihar's education minister, Ashok Choudhary of the Congress is worthy of a big sigh and a bigger yawn. It began with Irani taking offence at Choudhary addressing her as "Dear Smriti Iraniji".
After a big duel of words on the social media, the fight ended with a climbdown by the Congress man. Speaking in Patna on Tuesday, the Bihar minister said if Irani found anything objectionable in his address, he has no hesitation in tendering an apology.
Ms Irani growls like a tigress when she finds something is not up to her state, and this I find commendable in her. I mean, in a cabinet filled with male ministers, who don't hesitate to get violent inside the Parliament to prove a point, a woman needs mettle to be taken seriously. And our education minister sure shines out with her strong vocals and no-nonsense attitude.
 Ms Irani has long ensured that she maintains a public persona so strong that nobody dares take her otherwise. But I feel she has taken her trait of reprimanding colleagues too far by censuring Choudhary for addressing her as 'Dear'.  After all, we address all formal letters and applications with a 'Dear'!
I would have understood, had Choudhary called Irani 'My Dear'. That would have been utterly sexist and Irani's anger would have been justified. Ironically, Irani has shown strength only by being extremely sensitive, just a like a 'touch-me-not'. She could have just avoided the spat, because Choudhary was being professional. Irani has certainly made a mountain out of a molehill.
I am not sure if Irani has done it out of habit or just because the man in question happened to be a Congress leader. But the lady's rant on Twitter was surely out of place.
In a similar way, PepsiCo CEO Indra Nooyi had condemned in April the use of terms of endearment in the workplace, saying, "We've got to be treated as executives or people rather than honey, or sweetie, or babe. That has to change."
Nooyi, unlike Irani had hit the nail on the head. She had made a shocking revelation about the corporate world; she was talking about gender issues that are prevalent on workplaces. She was against a work culture that saw women as sex objects, no matter how high they climbed up the job ladder. And we applauded Nooyi for bringing it out.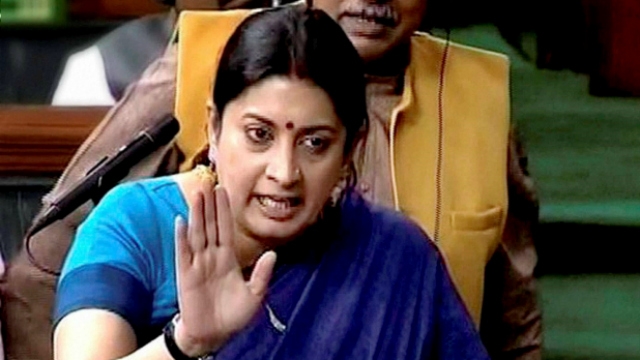 In contrast, Irani seems to have gotten sensitive over a no-brainer. May be the minister should pick up a Wren and Martin grammar book and go through the 'composition' part for a better understanding of the use of titles and addresses on English letter writing.