After maintaining a studied silence for a long time over the ongoing family feud in the Yadav clan, Amar Singh has begun to speak.
He is finally too hurt by Akhilesh Yadav's claim to keep quiet any longer. Akhilesh had said that Amar Singh was among the triggers for the fight raging in the Yadav clan, and has accused him of being a 'dalal".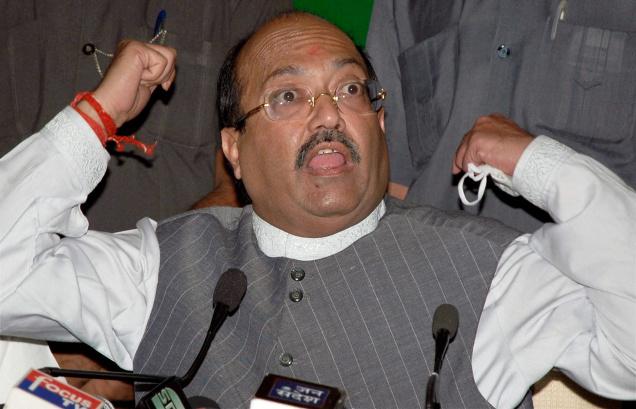 But Singh is not lashing out. Because he feels emotionally injured, he is expressing sorrow over being made the fall guy. He recalled how strongly he supported and rallied for Akhilesh when his family was against his marriage to Dimple Yadav. Interestingly, it was Dimple who was a critical protagonist and reason for Singh's ouster from the Samajwadi Party in 2010. He was accused of orchestrating her defeat in the 2009 State by-polls.
But he says he is, was, and would remain with Akhilesh, the son of Mulayam Singh, not the CM of Uttar Pradesh. Among other things, it is a mark of respect to Mulayam. Generally speaking, he could have challenged Akhilesh's assertion, saying they are mere assumptions, lacking any proof or substance, causing immense damage to self.
But as a responsible and dependable friend to Netaji, Singh did not add any more fuel to the raging fire. He only showed distress. Whether he is using this approach as a ploy, a strategy to make emotional impact or actually means it, is not really important because who will ever know for sure? Even best of calculations are not facts. Only Singh will have that knowledge. In politics, only what you say and present goes on record. By declaring his allegiance to Akhilesh, he has carefully managed to appease both sides.
But Amar Singh didn't spare Prof. Ram Gopal Yadav, the cousin of Mulayam Singh, and that sort of canceled his calm demeanor displayed in the case of Akhilesh.
After Ram Gopal's public statement, that Singh and Shivpal Yadav should not take the risk of criticising Akhilesh in public, the Rajya Sabha member went slightly dramatic. He said, if he is physically hurt or dies, Ram Gopal should be held responsible.
Ram Gopal is aligned with Uttar Pradesh chief minister Akhilesh Yadav while Shivpal Yadav and Singh are on the other side.
Besides Akhilesh, only Ram Gopal has had the courage to openly defy Singh, who Mulayam recently declared as his brother, someone who he won't disown again.
After being expelled by Mulayam, Ram Gopal became even more valiant, asking the party supremo Mulayam Singh Yadav himself this Tuesday to explain if Singh had "managed" CBI or the Supreme Court to secure a clean chit for him in a disproportionate assets case. He was trying to question the utility of Singh and the unnecessary focus on him during a family problem. It was stinging and hit the mark, forcing Singh to declare him as his future executioner.
While the Yadav family continues to rupture, those opposing Akhilesh's authority should recognize and stop ignoring this very important detail. Mulayam will never disown his son. He may pull him up and reprimand publicly, but he will also clear the hurdles that will come in way of handing over the baton to Akhilesh. Also, there is no other option, either to lead the party or the state. He will eventually emerge as the CM face for 2017 polls.
Once that is made official and Akhilesh virtually declared as the future, will he forgive and forget the various attacks Shivpal launched at him, or will he remember it all? But that will only matter if the party is re-elected. If the fight does not end now, that possibility will perish. With each passing minute of the dispute, BJP and BSP are gaining traction.