It's the humane story of how a Bangladeshi man fought all odds to get an abducted young boy back to his Indian home, crossing boundaries, both physical and mental. It also brings into fore how a few lawmakers like Sushma Swaraj, the External Affairs minister are working relentlessly to ease lives of Indians who live abroad.
Six-year old Sonu was kidnapped from Delhi in 2010 by two women and taken to Bangladesh, where he was tortured and was made to work as a domestic servant. Jamal Musa, a 52-year-old man from Bangladesh fought an arduous long battle and rescued Sonu from the clutches of his captors.
A la Salman Khan in the Bollywood superhit movie Bajrangi Bhaijaan, Musa had to undergo hellish time to get Sonu to his parents in India. Sonu's captors didn't let go easily. Musa was implicated in four cases; he and his family had to serve over a month in jail and also, lost his job with a private firm.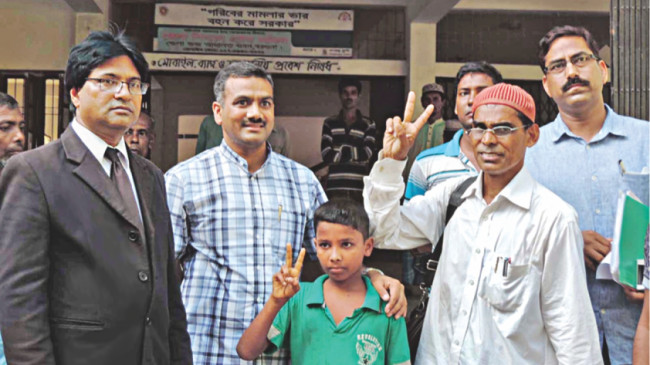 A fortnight back, Musa left for India to trace Sonu's family, armed with just a vague address provided by Sonu. Musa finally located Sonu's family in Delhi's Dilshad Garden area. The Ministry of External Affairs (MEA) acted fast after it was informed about the whole thing through the local police.
Sushma Swaraj ensured Sonu, now 12, was not held long in the Bangladesh shelter where he was kept. He was handed over to the Indian High Commission in Dhaka by a court in Bangladesh's Barguna district on Monday. By Thursday, the lost boy was back with his parents and given a warm welcome by Swaraj.
While Swaraj's Tweet of a picture of her hugging Sonu drew lot of admiration, detractors were quick to raise fingers that this was an excellent example of the MEA's PR. They flayed Swaraj for playing up the emotional quotient in bringing a lost boy home.
But instead of nitpicking the MEA's move, I think we should applaud Sushma Swaraj for being so actively involved in the incident. Ministers in the past have been too haughty and too busy doing the diplomatic rounds, with no time for the masses. Swaraj is one minister in PM Narendra Modi's cabinet who has been working without making much fuss about anything and everything.
The MEA is not just about diplomatic official visits to foreign countries. Swaraj has made obtaining passport a transparent task; she has made Indian embassies responsible for addressing labourers' woes abroad. These things show her concern for the general Indians, who have voted her to power. A humane touch is not a cheap publicity gimmick.