City-dwellers are cry babies. When Gurgaon or Gurugram, the Millennium City is 'drowned' in 3-feet water and people are stranded in their cars for a night, it is an 'emergency'. Such news travel far because those stranded commuters tweet about their predicament.
Meanwhile In Assam and Bihar, floods have been playing havoc for a month now, and have affected 40 lakh people. But that's an annual affair, so we can turn our back on it (or so we think).
The BJP-led Haryana government and the Aam Aadmi Party-led Delhi state had the usual spat about whose fault the Gurgaon flood was. A choked drain was the culprit for all the wet woes of the office-goers, it was later found out. Thankfully, the two governments didn't blame Indra, the lord of rains, for being the mischief-maker.
Till Thursday, the mainstream media had no inkling about floods in Assam and Bihar. Then Thursday happened, and rains submerged various metro cities across India. Among those affected were Gurgaon, adjacent to Delhi and Mumbai. The 24*7 news channels played sound bytes and videos of the "horrific" jam and half-drowned vehicles in these cities.
Meanwhile, I cringed because the flood situation in Assam was worse. The situation in Bihar was equally grim, with reports saying 26 people have died in Bihar and 25 in Assam. Recent survey says over 40 lakh people have been affected in Assam and Bihar. But where is the media coverage?
Only after some people decried partiality, the national media portals picked up the news and published hurried up data and figures of the loss incurred in the flood. In Assam, the place from where I come, over 19 lakh people in 23 districts have been affected by the current wave of floods, of whom about 2.25 lakh have taken shelter in nearly 600 relief camps set up by the state authorities. The army, as usual, is trying to help with its rafts and flood relief material.
Back home, many of my friends have taken up the job of hiring small boats and reaching out to marooned villagers, helping them in whatever little way possible. Some other friends have taken to rescuing wild animals, which are fleeing the flooded sanctuaries and rushing to the dry lands, mainly the human habitats.
Endangered rhinos are dying not on the hands of poachers, but in the floods, and over two dozen deers have either drowned or are killed by speeding vehicles as they run across the national highway.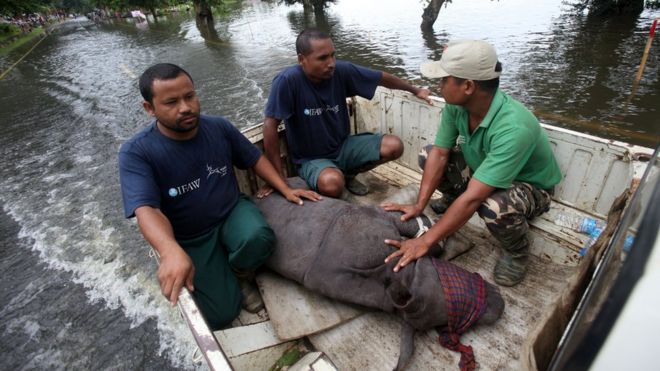 Home Minister Rajnath Singh, who seems to have developed a habit of being a late latif in visiting states facing crisis, is in Assam today to take stock of the flood. I don't know whether to applaud or get angry over this visit, because the state has been submerged in water for almost a month now.
With extreme weather becoming increasingly common, the government is under pressure to find long-term solutions to India's water woes. This news report remains the same year after year in the Monsoon season. All attention will be paid to the speedy relieve operation, but nobody bothers about a permanent and or a long term solution.