When Amar Singh was in full swing, pre-2010, he was fierce and all mighty, a go-to man who was the center of all attraction. Even powerful personalities sought his audience. As Samajwadi Party's political manager, he fastened SP to the nerve center of politics – Delhi. The regional party, courtesy of Singh's effort, transformed into a game changer in the realm of national politics and turned influential enough to make or break Governments.
Then came the dark period, laced with uncertainties. During his six-year phase on the sidelines, he experienced one particular harsh reality. That a messy house is a must – it separates your true friends from the other so-called friends. It was a period of reflections, and it was time well spent… today, when he is back for his second political innings, he appears better equipped to handle people who pose as friends.
The SP-nominated Rajya Sabha member cannot afford to tread carelessly. He cannot afford to have another Amitabh Bachchan on his plate, a man who allegedly deserted Amar Singh in his troubled times. It is public knowledge that Jaya Bachchan owes her political career to Singh, who lobbied extensively for her.
Apparently, Jaya Bachchan wants to continue being in politics because she believes it gives her a distinct identity. An MP wife to a superstar is still better than a former star who failed to sustain her acting career beyond a certain age. It gives her a sense of importance.
Singh, who can be held guilty of generally going overboard with his charity, even recommended Big B to Mulayam Singh for making him Brand Ambassador of Uttar Pradesh… Why Amitabh decided to end their much-talked about 'dosti' is difficult to pinpoint.
From what we have seen so far of Amar Singh, there is a clear-cut change in his outlook. He understands who Amar Singh is, where he is coming from. He knows he was once quite popular and strong. He indulged a lot, trusted a lot, even tried, consciously or otherwise, to be Santa, doling out favours in good faith.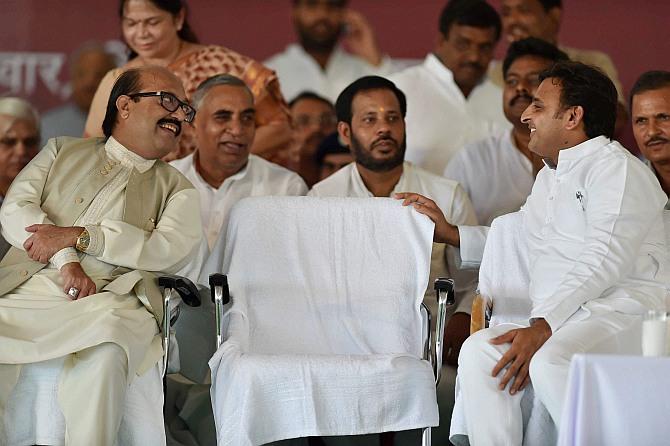 It won't be an exaggeration to say that Amar Singh was the rock star of Indian politics, hobnobbing with the who's who of every town. But there is a price to be paid for such a living. People, considered friends, take advantage of proximity, leaving you with a sense of betrayal.
Considering that the UP assembly elections are around the corner, Amar Singh, whose duty it would be to ensure party's victory, cannot afford to indulge in over-exposure, anyway. The elections will take all his time. Mulayam Singh Yadav's fondness for Singh was one of the reasons why he was re-inducted. The other reason is Singh's ability to forge political alliances and make a difference in the elections. He is expected to have a greater say in the strategy-making, one of the reasons why he was recently included in the 45-member strong national executive.
He was, perhaps still is, the closest to party chief, Mulayam Singh Yadav. His allegiance to 'Netaji' can be gauged from his declared thought process. He considers himself to be a 'Mulayamwadi', and not a 'Samajwadi'. Amar Singh's cordial relationship with chief minister Akhilesh Yadav makes Singh's political future quite bright and hopeful.
If I were Amar Singh, I'd consider my slate clean, clear of all the good and the bad. I would be a better, smarter version of myself. I would not be vulnerable, giving people with vested interests the impression that 'I will go to any length to help'. If my critics, like Azam Khan, have something to say against me, I will respond, not react. I have six years in the Rajya Sabha, and I will serve this period in the interest of my party and nation.