The disturbance within the Samajwadi Party is getting worse. The politics of spite and envy among the Yadav family members, from dawn till dusk, tells us that the greed for power and position far supersedes the bond of family.
Father and son have divergent views on what's ideal for SP. Shivpal Yadav, Mulayam's favourite brother, is flexing his muscles, daring his nephew chief minister to take action. Akhilesh did act against him by stripping him of key portfolios, but then Mulayam sided with Shivpal and the brother was duly handed back all that was taken.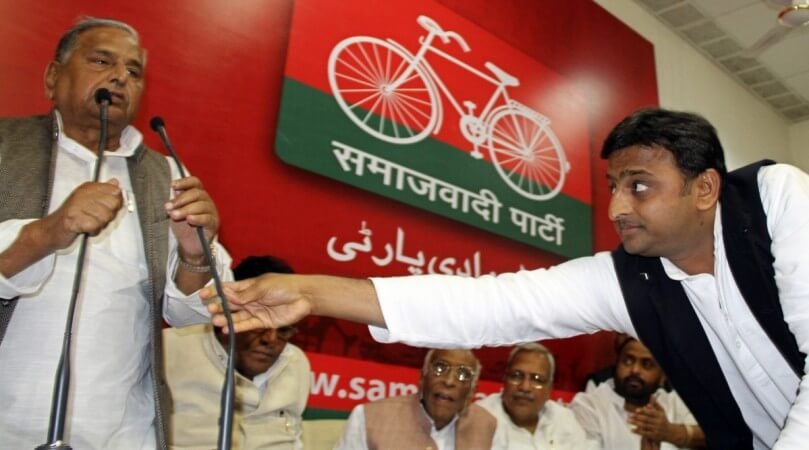 And as if that was not enough, on Netaji's orders, Shivpal replaced the CM as State unit party president. It was a bitter pill for the CM to swallow. Ramgopal Yadav, Mulayam's cousin, is on the CM's side but he is not as influential as Shivpal.
The final sign of disruption came on Friday.
During a press conference to announce the kick-off of the party's silver jubilee celebrations from November 5 with a meeting of party workers and MLAs in Lucknow, Mulayam was asked whether the party would contest the 2017 Assembly elections with Akhilesh Yadav as its CM face. He said: the decision will be taken by the elected leaders and parliamentary board … this is how it is done."
What does it mean? Shivpal has huge support base among the elected leaders and possesses the political shrewdness to draw Akhilesh loyalists away from the CM. If it is not purely a high command decision, and is left to the core group, Akhilesh will have little chance for a second innings if Samajwadi Party retains power.
Will he break away from the party? He is young, it is possible that he would think of extreme options. Because staying could be too painful. He would be too discomfited by all the events that led to its final conclusion.  An early end to his long-term dream of making some difference in the not so popular state.
But the secret to success is sometimes an epic fail.
In a scenario that his name is not announced as CM, Akhilesh will have to reboot. Take a fresh look at the situation. He must have always thought that this would not happen to him because he is Mulayam's son, that he is the natural heir to the throne. But s**t happens. Pitfalls and failures. Not everything goes from strength to strength.
Meanwhile, the chief minister has now moved out of his father's home. He has also announced that he would now start the election campaign "without waiting for anyone". This means that he would not wait for the party high command's green signal indefinitely.
Akhilesh must remain brave, but he also must prepare himself for starting all over again.