The influx of foreign tourists in India in 2016 is considerably higher than the previous calendar year. Naturally, this rising fondness for travelers to visit the country is improving the prospects for the hotel and hospitality sectors, motivating top hotel owners to steadily work towards capacity additions.
Apeejay Surrendra Group's hospitality arm, Park Hotels, has been working on adding 17 new properties under its mid-segment brand, 'Zone by the Park', by 2020 as part of its expansion plans across the country. It's a move that is likely to pay rich dividends as the number of tourists arriving here will only swell in times to come. This will attract and benefit domestic tourists as well.
Given the hike in salaries for government employees and low air travel costs, domestic tourism will remain strong and will gain from the growing number of options in the hospitality sector. This is a win-win for all.
The group, which presently owns three properties, in Jaipur, Coimbatore and Chennai, is expanding its footprint by targeting Mahabalipuram, Bengaluru, Puducherry, Bhubaneswar, Jodhpur and Goa, among others. This would be on a management contract basis, where the Apeejay Surrendra Group will manage these properties owned by different people across locations.
Priya Paul, who helms the hospitality business of the Apeejay Surrendra Group, has been steadily building on the heritage of the Group that is 116 years old. After their father's untimely death in 1990, Priya Paul and her sister, along with brother Karan Paul, were mentored by their mother. Interestingly, the family's approach to business is its desire to remain unlisted on any stock market. The Apeejay Surrendra group continues to be privately held, which is quite unconventional for a diversified conglomerate. But it's a decision that has served them well.
Delhi-based Ms Paul is the chairperson of the Apeejay Surrendra Park Hotels and is credited with transforming The Park Hotels into India's most stylish collection of 12 luxury boutique hotels, complete with fine dining, award-winning spas, and collectible art on display. The exhibition of popular artwork is a novel idea, creating an atmosphere of an art gallery within the premises.
Indian entrepreneurs, especially the women, are showing more courage than ever before. They are quick to spot an opportunity and leave no stone unturned in transforming it into a successful project. They are the country's visionaries, with inherent humility and the grit to make dreams come true. This lot is smart and tough, yet sufficiently flexible – or pragmatic – to try something new all the time.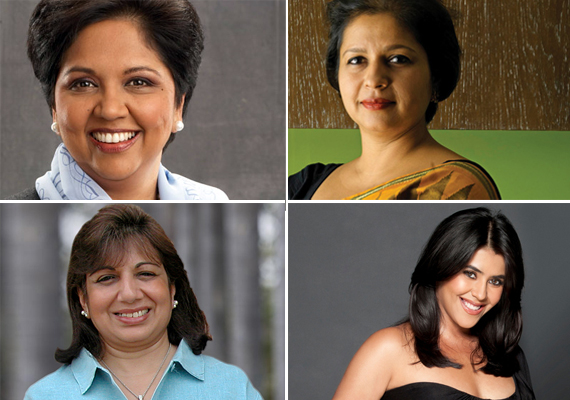 But no career worth having is easy. Getting to the top is hard and staying at the top harder. They must have faced crippling uncertainty, self-doubt and anxiety at some point. But they hung on and that's why they are here.