America and Haryana are as similar as chalk and cheese. Socially, culturally and geographically, they have no common traits to share. But one thing binds them irrespective of the differences: the desire to get a bride from outside their region.
Due to the social set up, the 'need' for a bride is entirely different in both the states. However, the reason is the same: someone to look after them, and 'keep' their house. Men want the warmth of a woman to chase away their loneliness. They want a woman to call their own, and this need of a woman sometimes turns into a major frustration when they fail to find any.
Men from USA used to seek bride from foreign countries as early as the nineteenth-century. Then, well-off American men would spread the word through churches, and newspapers and once accepted, pay for the arrival of his bride. There was a relative change in the trend in the twentieth century, with women from developing countries seeking men to counter poverty. The prospective brides would enlist themselves in catalogues and when selected, they would arrive, much like the parcels that could be ordered through mail orders.
The order in the current century has been reversed, with men listing themselves as 'mail-order husbands' in the websites, who when selected, visit the woman's country to woo and wed her. Women from poorer countries ─ Vietnam, Brazil, China, India, Thailand, Ukraine, Dominican Republic, Colombia, the Philippines and Russia ─ looking for a quick swap of fortune, coupled with the lucrative prospect of staying in the US would chitchat with men on the internet.
To change the age-long trend of Western men seeking a long-term maid and a sex slave, many international wedding bureaus are changing the approach to shield vulnerable women. One such Ukranian site advertises: "Date a model, but with the values of your grandmother". The men featured in testimonials are sick of western women, whom they insist have forgotten "family values". Some of these men are tired of the Western dating scenes, while others are recovering from a divorce or the demise of a wife.
Russian women are looking outside for a groom due to shortage of men; there are roughly eight men for every ten women in Russia. The reverse is the case in Haryana, where years of rampant sex selective abortions and rigid marriage laws have led to a scarcity of brides. The state with the worst sex ratio in the country now has no choice but to look for brides outside.
The lack of girls is making human-trafficking a lucrative and expanding trade in Haryana. Every year, around 9000 poor women from Himachal Pradesh, Uttarakhand, Odisha, Bihar, Jharkhand, West Bengal, Kerala, Assam, Uttar Pradesh, and Andhra Pradesh are bought for marriage. These women are derogatorily termed 'molkis' in Haryana for being brought over from their families. While Haryanvi families wouldn't deny that they got a non-Haryanvi bride, none would accept they paid a price for the exchange, ranging from Rs 30,000 to Rs 60,000.
A majority of the brides would adjust to the new ways of life. But quite often, dark stories of sexual, physical and emotional violence of molkis would rise, painting a true picture of their plight: sexual slavery, bonded labour, and abandoned or resold for not producing sons.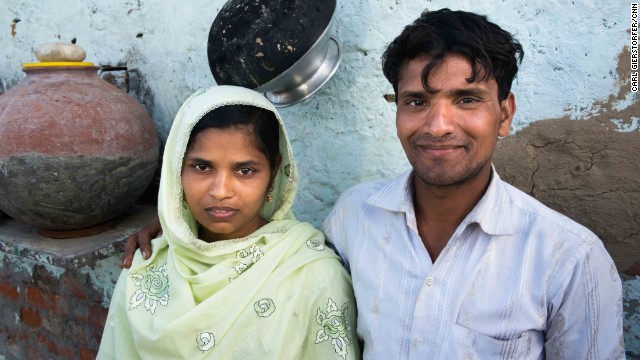 Buying a bride does not mean a dish of your wish. It all depends on suitability. While there are stories of families living happily ever after, there are also gory tales of violence and death. Whoever said marriages were made in heaven, never knew about bride for a price.