There was a time, not too long ago, when regional parties came looking for alliance with Congress. It was a time when the party's national identity and relevance worked like a magnet.
But, times they are a changin'.
Now reduced to being a political pygmy, it is the Congress Party that is seeking joint ventures.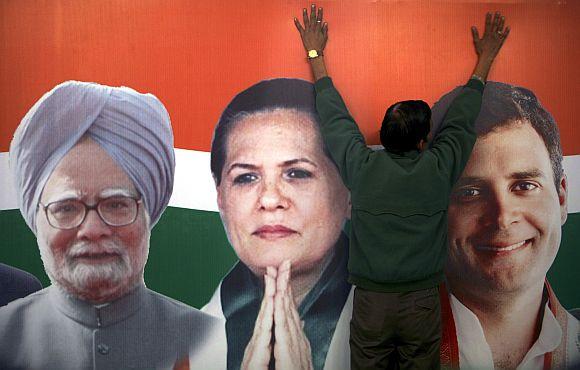 With the UP elections in 2017 in mind, Rahul Gandhi wants to align with the Samajwadi Party and has conveyed his desire to Mulayam Singh Yadav. Prashant Kishore, that glorified political strategist, this time operating for Congress in Uttar Pradesh, met SP supremo Mulayam in Delhi and told him Rahul is willing to consider a joint fight in the elections if Akhilesh Yadav is given full command.
He is trying to stitch together a Bihar-style secular alliance. With the horrible failure of its Sheila Dikshit-for-CM card, the Congress has no choice and is working on forming a SP + Congress + RLD + JD(U) combine to take on the BJP and Mayawati's BSP.
Of the 403 seats fought for in 2012, Congress managed 28, RLD 9 and JD(U) does not even exist. These three parties, although not quite much in number, would have gone on to make a difference to the prospects of Samajwadi Party had the Yadav clan not been in tatters. In 2012, they crushed everyone, grabbing 224 seats. Today, it seems improbable that SP will win even half of that. The family feud between CM Akhilesh Yadav and his uncle, Shivpal Yadav, has crippled the momentum the party had until the dirty laundry became public.
It was a fairly good governance that promised more. Akhilesh had managed to win over the youth of the state through his emphasis on education and development. He was the future. But after the flare-up between the two became public, their dislike for each other known, their graph started sinking, with more and more people expressing disgust and sadness at this disruptive, unsavory drama. The Muslim voter, SP's main support base, is thinking of options.
The alliance between RJD and JDU(U) worked in Bihar because they were the leading parties of the state, it was an invincible combination. Two sworn enemies hugged each other like long lost brothers, but like true politicians, Nitish and Lalu swallowed the bitter pill to stay in power.
Here in UP, it is not even close. The grand alliance Rahul Gandhi is wishing for has  little teeth, it is not potent enough to take on a powerful BJP and a resurgent BSP. Perhaps, Rahul's dream team stood a chance had the family rift not happened.
But SP is the only party with which Congress can form an alliance, and it has to make an alliance. Perhaps, Rahul is not seeking victory, only better numbers in the state assembly in the opposition benches. In an assembly filled with 403 MLAs, Congress will feel quite lonely, alone.